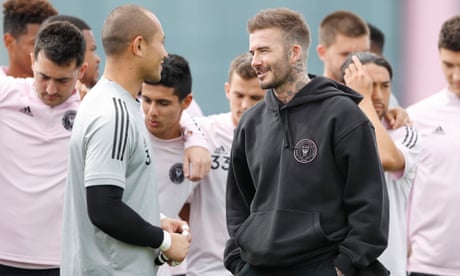 FROM STEVE BRENNER IN LOS ANGELES
When David Beckham's Inter Miami take to the field at the Banc of California stadium on Sunday night, six arduous years of crippling uncertainty will melt away.
The former England captain never thought it would be like this, yet the Miami political landscape is far trickier to beat than a well positioned defensive wall with a curling free-kick, something the 44-year-old did so wonderfully during his stellar playing days.
Running battles with commissioners plainly unimpressed by the Londoner's glittering resume and status as a global sporting icon will, finally, take a backseat as Inter Miami begin their inaugural MLS campaign at Los Angeles FC, last season's trailblazers who looked nailed on to win the championship before falling just short.
Powered by LAFC's star turn Carlos Vela – the ex-Arsenal striker scored 34 goals last season and was named MVP – former US national coach Bob Bradley has formed an attacking powerhouse of a side who will aim to devour opponents hastily blended together by someone only installed at the end of 2019.